Having seen the
BMW Z4 Coupe
in person during the Hall of Frankfurt last year, we know firsthand that the photographs do not do justice to the design of the convertible. Thus, we offer you this video (here) of the
new BMW Z4 M Coupe
to illustrate a little better design of the latest
BMW
sports. It remains two-dimensional, but at least they can observe devouring the track from all angles.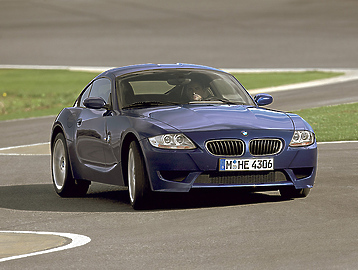 Thanks to this awesome engine, the Z4M Coupè accelerates from 0-100 km/h in 5 seconds flat, while top speed is electronically governed at 250 km/h (there's talk of 300 km/h without the limiter). Tires are 225/45 ZR18 at the front and 255/40 ZR18 at the back, on classic "M" rims.
The underbody is extremely riggid, with a resistence to torsion of 32,000 Nm/degree), while the braking system comes straight from the M3 CSL. The result is a car that goes round the Nurburgring Nordschliefe faster than her Roadster sibling and, surprisingly, faster even than the M3 E46. More photos and the text of the BMW press release below the fold.